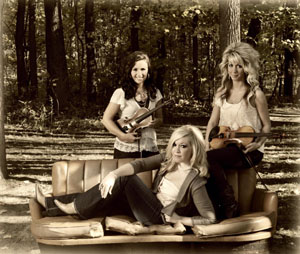 Friday, Aug. 31, 4:30 to 6:00 pm

Centerville is the "must-see" country band from mid-Michigan.  With a three-part female vocal harmony, dual fiddles, banjo, guitar, bass, and drums, there's literally something for everyone. It is comprised of seven members, all with different musical backgrounds. Though the primary musical focus is of the country genre, it's members' musical tastes range from Bob Dylan, to Carrie Underwood, to ZZ Top, and beyond into jazz and classical.
Live performance is where this band really shines. Each show is carefully crafted so the audience feels the full dynamic range from soulful ballads to the crunching guitars and high energy songs that make your body move. In 2009, Centerville's first year together, they proved what a true professional band should be on every level: opening for Jason Aldean, Jamey Johnson, and Darius Rucker at venues such as Common Ground in Lansing and the Muskegon Summer Celebration. In December 2011, Centerville released their debut CD, Middle of Nowhere.
Band members:
Emily Cradit – Vocalist
Lauren Guilfoyle – Vocalist / fiddle / acoustic guitar
Anna Townsend – Fiddle / back-up vocals
Brandon Lardie – Electric / acoustic guitar
David Vincent – Guitar / banjo
Denis James – Bass guitar
John Minthorn – Drums