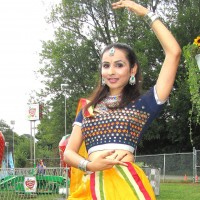 Important pieces in the "mosaic" are the performances celebrating the cultural diversity of the Lansing area.  This year's performers offer us urban, Bollywood/India, Middle Eastern, Mexican, African, Arabic, and Latin music and dance.
Saturday afternoon fills the stage with movement.  First is Community Dance Project, produced by Happendance and LCC, offering hip hop, modern and lyrical dance from its 7th season.   Next, MALHAR Dance Group shows how the dance craze called "Bollywood" is built on the vibrant musical heritage of India.  Habibi Dancers offer a window into Middle Eastern culture, including the popular element of belly dancing.  El Grupo Fiesta brings to the stage traditional folk Mexican dances, performed by dancers age 2 to 30.
Sunday afternoon begins with Ritabi Drum and Dance, offering a look at African culture through drumming, story-telling, singing and dancing.  The Burundi Choir will make you want to move to the earthy energy of songs in their native Swahili.  Wisaal, the Arabic word for links/unities, fuses elements of Arabic musical heritage with Indian and American influences.
And closing out the festival are 3 hours of electrifying Latin music from Orquesta Ritmo, Michigan's premier salsa group, which tours throughout the Midwest.