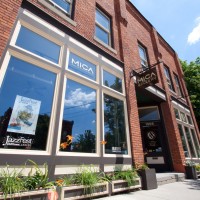 MICA, the producer of Michigan Mosaic Music Festival (and its sister festivals Old Town BluesFest and Lansing JazzFest), emphasizes the use of quality fine artwork in posters and other promotional materials. In honor of festival season, beautiful MICA Gallery (1210 Turner) is hosting a show of festival posters throughout history, featuring nearly all the posters ever used by Mosaic, JazzFest, and BluesFest, as well as some of the original art. This artwork is for sale in the gallery.
Artists featured include Brian Bishop, Melissa Calanchi, Louise A. Church, Dario Corsi, Andy Doerr, Barbara Hranilovich, Ken Keirns, Steven Kovar, Kirby Milton, Barbara Morris, Joe Oberlin, Dennis Preston, Theresa Rosado, David Sherer, C. Song, Bruce Thayer, Terry Terry, Tim Whalen, Chuck Wilhelm and Qinge Wu.
MICA Gallery is also a product of MICA's work to catalyze community development through quality arts programming.