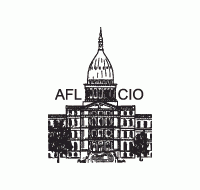 In recognition of labor for this Labor Day weekend, learn a little more about the unions supporting this event.
The Lansing area has a long history of organized labor, starting with the Union of Bricklayers and Allied Craftsworkers in 1865, and growing into the 21st century with the Graduate Employees Union at Michigan State University, founded in 2001. Union workers make Mosaic possible, with labor from the International Alliance of Theatrical Stage Employees (IATSE), AFL-CIO.
The Greater Lansing Labor Council, founded in 1948, is the "union of all the unions," representing over 40 labor unions who together represent over 16,000 working families. The mission of the GLLC is to improve the lives of workers, their families and our community – to bring justice to the workplace and society. This work is guided by the belief that working together strengthens our voice in the workplace and the larger community.
Communications Workers of America, Local 4034 was established in 1938 and serves nearly 1,000 telecommunications workers throughout lower Michigan. Its mission is to ensure good faith bargaining between employers and their workers and to protect and better the lives of retired, current and future members by educating, strengthening and uniting membership. CWA, the largest telecommunications union in the world, represents over 700,000 men and women in both private and public sectors. CWA got its start in the telephone industry, but today it represents workers in all areas of communications, as well as in health care and public service, customer service and many other fields.
Graduate Employees Union #6196 was founded in 2001. It represents more than 1,300 teaching assistants working in over 70 departments at Michigan State University. Teaching assistants are graduate students who work between 10 and 30 hours weekly teaching, grading, and advising MSU undergraduate and graduate students. TAs teach 50% of MSU's classes and do 66% of the grading. The GEU provides community for graduate employees, connecting campus and reaching across academic/disciplinary/geographical/personal background lines.
International Brotherhood of Electrical Workers, Local 352 represents 440 members at the Lansing Board of Water and Light and Duke Energy. IBEW Local 352 was established in 1903. The men and women of IBEW Local 352 have maintained the electric power, water distribution and steam service for the city of Lansing for over 108 years. Local 352 has taken pride through the years in giving back to the community by donating to several nonprofit organizations.
International Union of Operating Engineers Local 324 was founded in 1906 to anticipate and capitalize on the ever-changing economic, social, political and legal challenges facing members—and to provide an unmatched level of services to members through a dedicated, loyal team of professionals. In September 2009, it become a combined local union, representing those in the hoisting and portable industry as well as the stationary engineers. Education, training and skill building differentiates the members of Local 324; each year thousand of hours are spent preparing to better serve customers.
Laborers' International Union of North America Local #499 was founded in 1903.
The Michigan Public Employees/SEIU Local 517M is a statewide union with over 10,000 public employee members in all 83 counties in Michigan.
Michigan State AFL-CIO was founded in 1955 to protect working families via political action.
Plumbers & Pipefitters Local 333 was founded in 1889.
UAW Local 602 was founded in 1939 to represent automobile workers for dignity and respect. That purpose continues as Local 602 has grown to become an amalgamated local, protecting the interests of members, fighting for social justice for the middle class, and being a good steward of the community by giving back. Local 602 and its members donate thousands of dollars each year to various charities and food banks, raise 50+ pints of blood each drive, and award $2K annually in scholarships, among many other charitable causes.
UAW Local 652 was founded in 1939 to represent and give a voice to hard-working automakers and manufacturers in Lansing, both at GM and the part suppliers at Ryder, AI and JCIM. It created many health and safety processes still used to date by MIOSHA, like the Ergo standards. In over a hundred years, local members have built millions of Oldsmobile Eighty-Eights, Ninety-Eights and Cutlasses, as well as countless Buicks and Pontiacs. Now, members build Cadillac's CTS and ATS with quality to compete in a world-class market, and their parts suppliers deliver world-class parts to the Delta plant for most of their products.
UAW Local 724 was founded in 1940 to serve the membership. In addition to bargaining areas, it assist members in educational, informational, recreational, and related areas. The local hosts local union picnics, golf outings, and events for kids during Halloween and Christmas, as well as supporting the United Way, breast cancer awareness, veterans' issues, food drives, and Mystic Lake YMCA Camp, to name a few.
Other supporters:
AFSCME Council 25
AFSCME Local 1585
AFSCME Local 2723
AFT-Michigan
APRI
Bricklayers Local 9
CAP President, Local 6521
CAP-Coordinator, Region IC
Carpenters Local 1004
CTU of MSU
East Lansing Firefighters Local 1609
Electrical Workers Local 665
Electrical Workers Local 1106
Ironworkers Local 25
Lansing Firefighters Local 421
LCC-MAHE
LEA/MEA
Letter Carriers Local 122
Local 1039
Local 1585
Local 1600
Local 6196
Local APRI
Local LCLAA
LSEA
Machinists Local 0274
Meridian Firefighters Local 1600
MNA
MSEA
OPEIU
Postal Workers Local 488/489
RWDSU Local 93
Service Employees Local 526M
Sheetmetal Workers Local 7
Teamsters Local 580
UFCW Local 951
United Paperworkers Local 6-0414
Utilities Workers Local 123
Painters Local 845, District Council 26