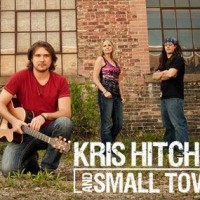 By Alyson Gines
As the summer days begin to shorten once more, we begin to turn our minds towards the coming fall. Students return to school, leaves begin to drift downward, and fresh opportunities come around as the cooler weather begins to approach. In a final farewell to the sunny days of summer comes the Michigan Mosaic Music Festival, August 31st through September 2nd. Come join us at Adado Riverfront Park right in downtown Lansing for a few days of country music, cultural performances, kids' events, boat races, and more.
This year's great country acts include Kris Hitchcock and Small Town Son, whose authentic, gritty, and straight-talking songs are a Midwest country look at the thoughts and issues that define growing up and growing old in our world. National recording artist Brian Lorente and the Usual Suspects share a contemporary country rock sound while staying true to the values of the roadhouse masters. Gunnar & the Grizzly Boys bring rockin' country tunes, with a fresh blend of northern rock and hometown country that you just can't help but move to when you hear it. Centerville is the "must-see" country band from mid-Michigan. With a three-part female vocal harmony, dual fiddles, banjo, guitar, bass, and drums, there's literally something for everyone. Delilah DeWylde and the Lost Boys create hand-crafted American music that liberally draws from honky tonk, country, rockabilly and surf music. Brenda Loomis Band shares Brenda's smooth, sultry voice that tells a story with every song she sings, harmonized perfectly with the band's guitars, keyboards, harmonica, drums, and saxophone!
Named for the ancient art form of small multi-colored stones carefully placed to form a larger mural pattern, Michigan Mosaic Music Festival (Mosaic) bridges diverse communities in an outdoor celebration of labor and the diverse people who have built this city. Musicians and performers alike come together from a range of different backgrounds to share with us their unique talents that make our area great.
One is the MALHAR Dance Group, who expresses the vibrant and colorful heritage of India. Their beautiful and energetic performances showcase dancers of all ages expressing culture through music. Another is RITMO, Michigan's premier salsa orchestra, who have performed electrifying Latin music all over the Midwest.
There are also a variety of activities available for children. Saturday from 12-5 there will be a moonwalk available for kids to play on. Additionally, on Sunday, the Capital City Dragon Boat Race (across the river) will feature a MSU-staffed kite-making activity and play land. Then, kids will come to the Mosaic side of the park to fly their new kites.
The Capital City Dragon Boat Race will take place on Sunday, September 2nd. It is a 2000-year-old Chinese sport in which people compete against each other as they heartily paddle in 40-foot dragon boats, racing to see who can capture the flag first. The race covers 300 meters, starting near the Lansing City Market, and finishing between East and West Adado Parks.
This festival is organized through the Michigan Institute of Contemporary Art (MICA), whose goal is to promote the arts while bringing people together. It's about uniting our communities through celebrations of passion—whether it be music festivals, art galleries, poetry readings, or more, and bring it to the forefront of the Michigan scene. As an all-volunteer organization, MICA is fortunate to call on the time and talents of an enormous group of dedicated people. Their remarkable commitment makes many Lansing festivals possible.
Mosaic offers people the opportunity to dance to live music, be captivated by breathtaking cultural performances, and enjoy conversations with old or new friends. It's a chance to celebrate with our communities and revel in discovering new experiences.